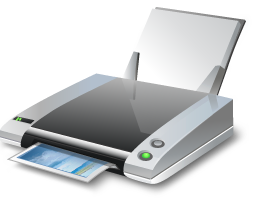 We create a diverse range of printing at Magnascan, from business cards to full colour product catalogues. We can print any sized poster up to AO on our Roland large format photo printer. If you have a request for a print job and need some information, just ask us. We have a fully qualified printing and pre-press tradesman working here with over 20 years of hands on experience. If he dosen't know the answer, then no one else in town will either!
Our range of printed products covers business cards, post cards, christmas/greetings cards, stickers, labels, invoice and docket books, posters, brochures, catalogues and pull-up banners. Size variations include DL, A6, A5, A4 and A3 sized flyers for mailouts and letter box drops, and larger A2, A1 and AO sized banners and posters.
We also offer specialist print finishes and embelishments like foil blocking (metallic finish shiny foil colour) embossing (raised areas on print) spot varnish (shaped shiny areas over print surface) as well as rounded corners, folding business cards, plastic cards, even transparent cards!
Look below for samples of some of our recent print jobs-